Women's Empowerment
Globally, the majority of the world's poor are women and when a woman lives in poverty, her family and the next generation are more likely to live in poverty. The empowerment of women and girls is not only important for a more inclusive society; it is a key component to achieving sustainable development.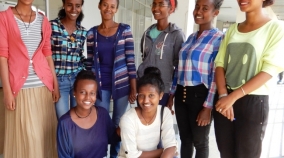 ETHIOPIAID'S AIM: Support the well-being of disadvantaged women and children; Promote community development through the economic empowerment of women.
The Challenge
Statistically, as in most places in the developing world, women in Ethiopia disproportionately carry the burden of poverty. This is not only detrimental to fostering inclusive communities but is an impediment to sustainable development. Young women, such as those migrating to urban areas in search of work opportunities, are particularly prone to various forms of exploitation.

While Ethiopia has made incredible strides in promoting education and strengthening its economy, women and girls still lag behind in enjoying these developments. This is particularly true for women and girls from the poorest households and the most marginalized groups in society. With high rates of early marriage, gender-based violence, HIV/AIDS, and maternal mortality, adolescent girls face unique risks to their health and livelihoods. Overcoming this challenge requires an integrated approach to women's empowerment that begins with a focus on girls and especially adolescent girls.
Our Solution
We recognize that empowering women requires an integrated approach that builds the health, social, and economic assets of women and girls. Under this pillar, we strive to expand educational opportunities for poor women and girls, increase the earning capacity of marginalized women, and provide safe spaces for vulnerable girls to thrive.
Association for Women's Sanctuary (AWSAD): sheltering women and girls who have experienced physical and psychological harm
In 2017, Ethiopiaid began supporting the AWSAD, a women-led organization and the first of its kind to provide assistance to victims of sexual violence. In five women-only shelters located in Addis Abeba and in Oromia, young women are provided with a safe shelter, live in solidarity with others who have experienced similar trauma, access to counseling, educational support, legal aid, self-defense classes, and other services to gain the confidence and skills necessary to rebuild their lives. The shelters are staffed 24 hours a day, seven days a week.
Cheshire Services: small loans program for women with disabilities
In 2013, Ethiopiaid launched a Sustainable Livelihoods Program with its partner Cheshire Services. Part of a community rehabilitation project with Cheshire Services, this program offers loans and business training to disabled women and mothers of disabled children. Participants also form a revolving savings group, which acts as a sustainable source of credit. Most beneficiaries are the poorest of the poor and have been excluded from the workforce, denied access to banks and credit, and marginalized within their own communities.
By participating in this program, women gain access to a bank account, a small loan, and business skills to develop their own income-generating activities. Many participants earn their income through animal husbandry, preparing spices, or selling crops. The program is unique from other microloan programs because we specifically target disabled women—a group that is often overlooked by mainstream interventions.
Healing Hands of Joy (HHOJ)
Healing Hands of Joy's main mission is to eliminate obstetric fistula from Ethiopia. They help prevent obstetric fistula by training previous survivors as Safe Motherhood Ambassadors to provide education and access to safe delivery options for pregnant mothers. They also help women to identify existing cases of fistula for treatment to bring them into the hospital for treatment.
HHOJ is unique in the fact that they don't only focus on providing surgeries for women suffering from fistula; they empower survivors to become Ambassadors to educate communities. When you have more people that know about fistula, the stigma around it decreases and early detection of fistula happens within communities. Treatment is just as important as rehabilitation and awareness of the issue.
Small loans and training

2021: Microloans are provided to women to assist in their economic dependence.

Community Awareness

2021: Five stakeholder workshops were conducted to connect Safe Motherhood Ambassadors with midwives, extension workers, and other community stakeholders

Safe houses for victims of violence

2021: 99 women &girls and 48 of their children received all the safehouse services (safe space, food, counseling, medical treatment, legal follow up, and basic literacy skills.
Our Impact
Since 2012, our partnerships have had the following results:
In Eastern Hararghe, 191 women with disabilities with empowered with small loans and business skills training to start their own business, yielding significant positive benefits for each member of her household, impacting over 1,000 dependents
In northern Amhara, 50 healed fistula patients were trained in crafts production, basic numeracy and literacy, were able to earn a sustainable income, became financially autonomous, recovered their dignity and reintegrated successfully their community
In Addis Ababa, 35 women have been certified in tailoring skills, are earning a stable income in the private sector or in government, and will be able to secure their offspring's education
Success Stories
Read our success studies here